Update (25-Aug-2021):
x.ai will unfortunately be shutting down on 31-Oct-2021, see official blog post
here
. A new article exploring alternative options is currently in development.
One of the most frustrating aspects of running a clinical trial is the constant back-and-forth involved to schedule in a participant for one of the many study visits required. Typically, a clinical trial investigating a medicinal product involves:
Screening
Baseline
Week 2 Treatment Follow Up
End of Treatment
Post-Treatment Follow Up
That's a minimum of 5 phone calls (or Zoom sessions) that you'll need to organise with a study volunteer throughout the clinical trial, and a minimum of 3 to 4 emails that you'll need to send – not to mention the potential follow up emails that you'll need to remind yourself to do, if the participant does not respond. Essentially, you'll end up looking like this once you've worked on a trial for a couple of months...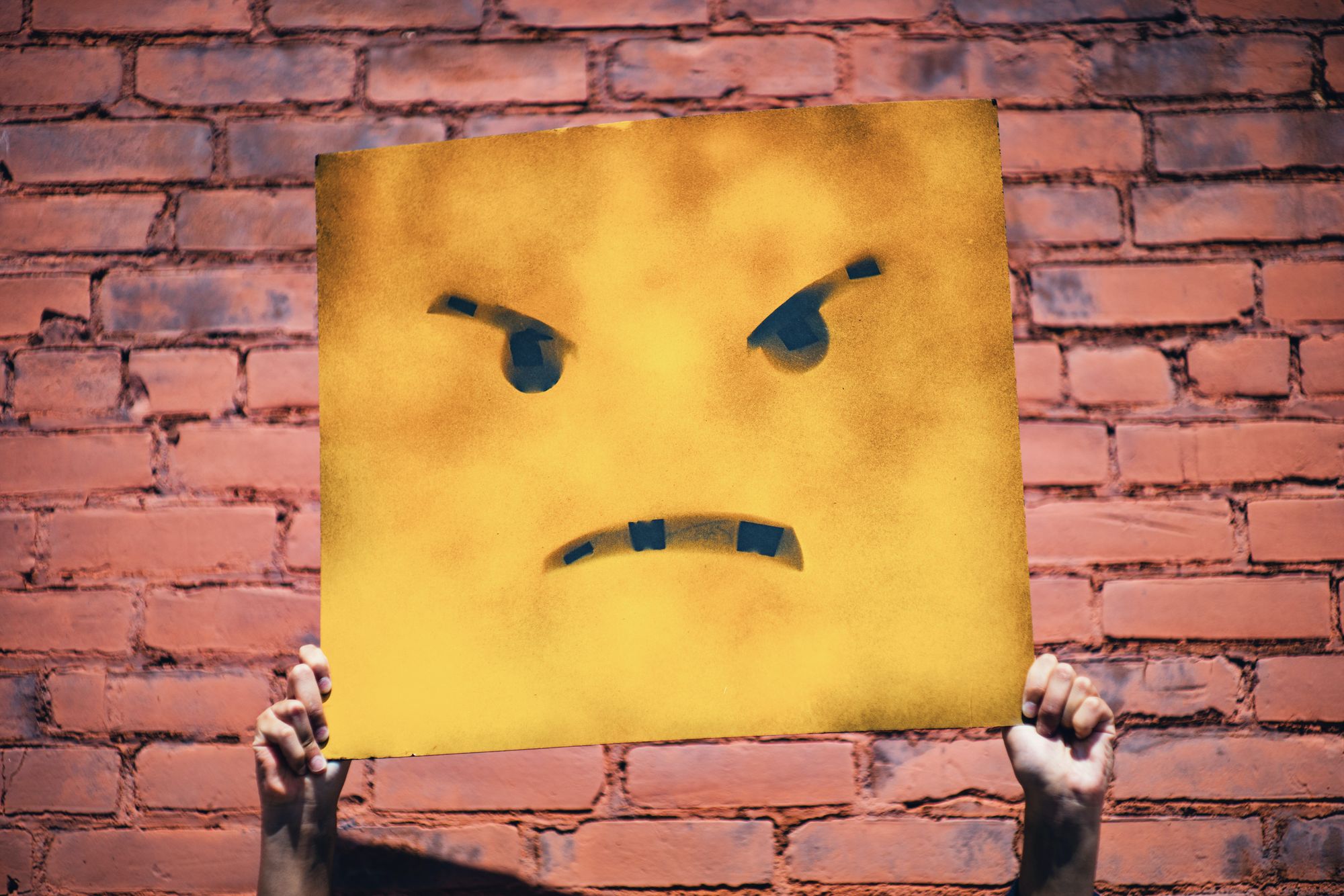 Yes! There is a better way – and it's free!
A couple of weeks ago, I've stumbled upon a great scheduling tool that I've instantly fallen in love with – it's called x.ai. My supervisor's reaction to when I first introduced x.ai to him:
What is this black magic?
With x.ai, you setup Meeting Templates for all the different meetings you need in your work life, such as a 30-minute phone call, lunch meeting and whatever use-case you can think of for your scheduling needs. From there, x.ai will generate a unique link, that you can use for each of the different templates you've setup (for the purpose of sending it to your guest to schedule themselves in for the meeting) as well as your very own scheduling homepage!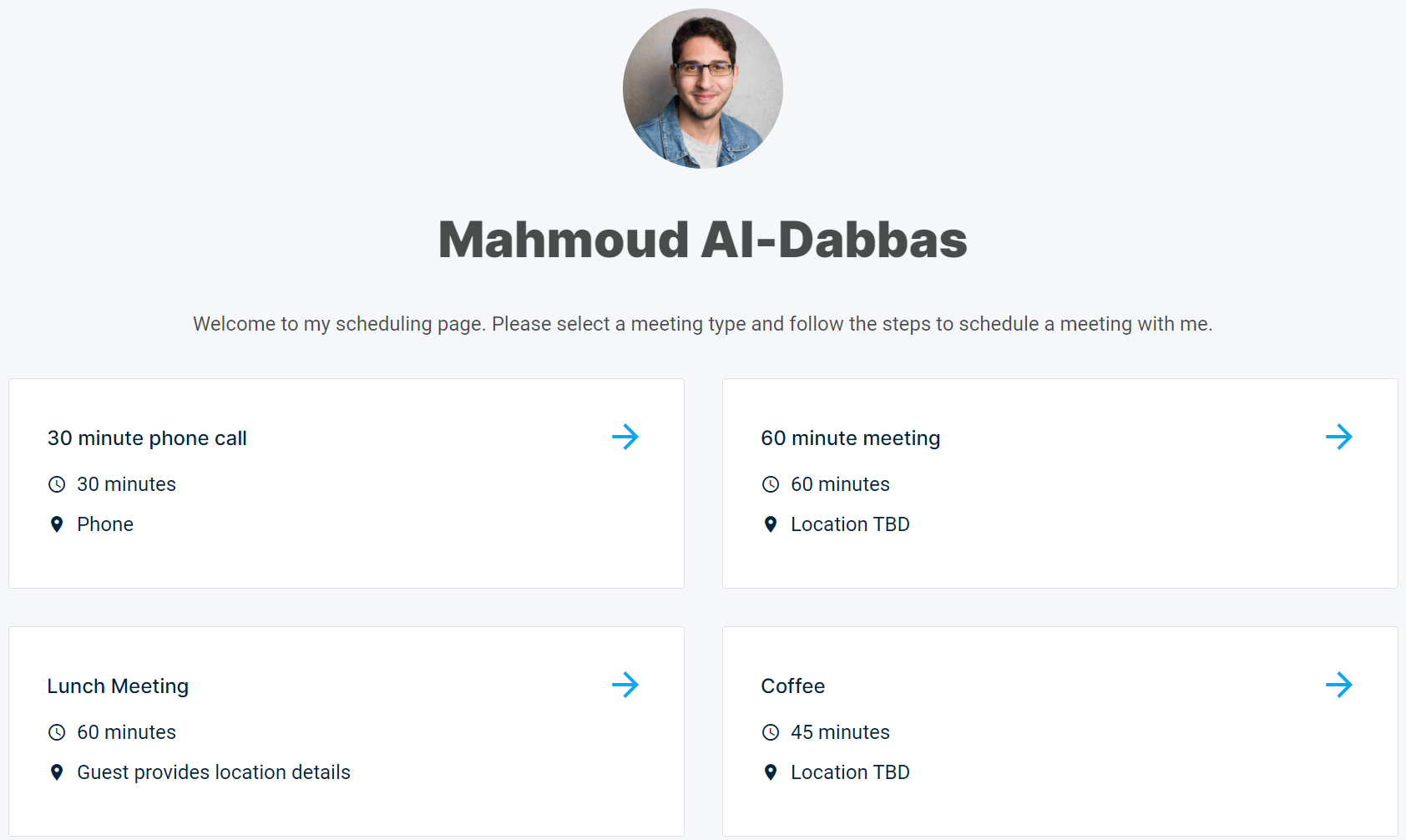 Within each template, you can specify pretty much everything you can think of and aside from the expected parameters (e.g., location, availability and duration), here are my top picks:
Personalisation - allows you to edit the Title, Greeting, Schedule Meeting Button and Invite Notes on your scheduling page. This can be a nice way to inform your guests of what to expect from the study visit.
Guest Questions - request additional details from your guests scheduling through your calendar page by adding custom questions. This is an excellent feature for screening calls in particular, as you can ask participants to provide their name, email and contact number.
Automated Follow Ups - you can customise how many follow up emails x.ai sends to your guests to confirm a time as well as how many days between each follow up attempt.
Pre-Meeting Reminders - send your participants a reminder 1 hour before the meeting's start time and also allows them to reschedule the call if they wish.
How Do I Schedule Meetings with My Participants?
Easy. You just send them a link that corresponds to the meeting template you've created. For example, if you want to schedule that Week 2 Follow Up Call, simply copy the link for that template and include it in your email or text message and your participant just needs to click on that link and follow the prompts!
Here is a quick video tutorial of how it works:
If you'd like a more in-depth guide, visit this page for the full details.
Although, l think one of the coolest features of x.ai is you can actually just CC in the AI (use either amy@x.ai, andrew@x.aiandrew, or scheduler@x.ai) and ask it to schedule a meeting with your guests for you - it's like having your own personal assistant!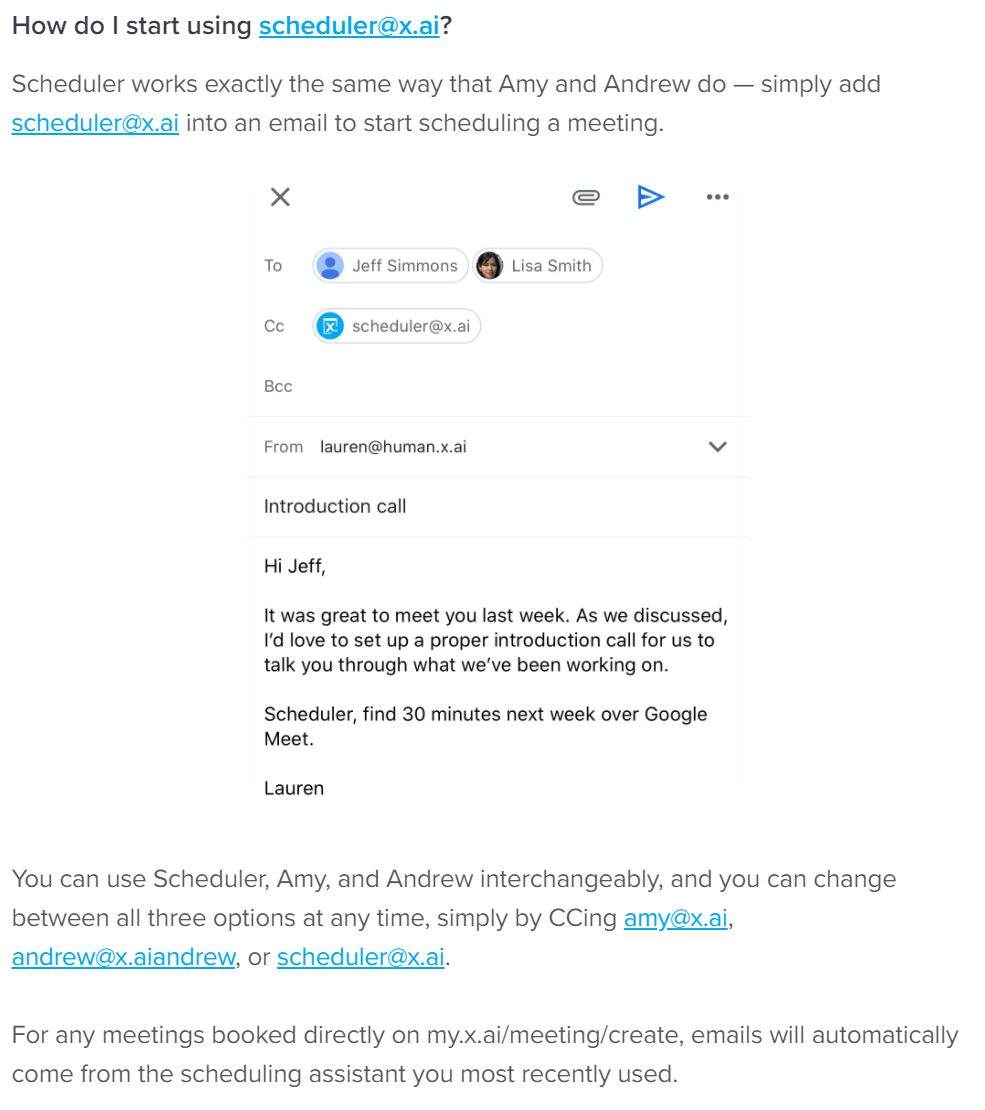 The Grain of Salt
This is the section of the article where l take you a step back and present the caveats of this method. It's generally nothing serious but just a heads up to keep you informed before you potentially implement this solution for your very own clinical trial.
There is of course a paid subscription plan for using x.ai but in all honesty, the free plan is great and you can do quite a lot with it. However, here are some of the key limitations of the free plan that I've noticed:
You can only connect one calendar that x.ai will use to dynamically determine your availability for meetings.
If you're scheduling Zoom meetings, x.ai will not generate unique invite links for you under the free plan. However, you can simply use your Personal Meeting ID for all Zoom meetings.
Your ability to customise the finer details of your meeting invites is limited, but not in a major way. For example, you can't customise how many reminders your guests will receive or when the reminder email will be sent.
Personally, l think the free plan offers a robust and genuinely useful feature set that won't restrict your ability to take advantage of the core functionality of the platform. If you'd like to take a closer look at x.ai's pricing, visit this page.
---